Classic Monsters of the Movies #26 is a trip down the monstrous side of memory lane, exploring some of your favourite vintage horror movies in our award-winning style. Whether you prefer golden age legends, the lurid shockers of the seventies or the kitsch side of science fiction, our passion for horror cinema makes Classic Monsters of the Movies the horror film magazine you've always dreamed of. Combining beautiful stills reproduction, professional journalism and top-end production values, we offer Monster Kids around the world a welcome route back to the world of nostalgic chills.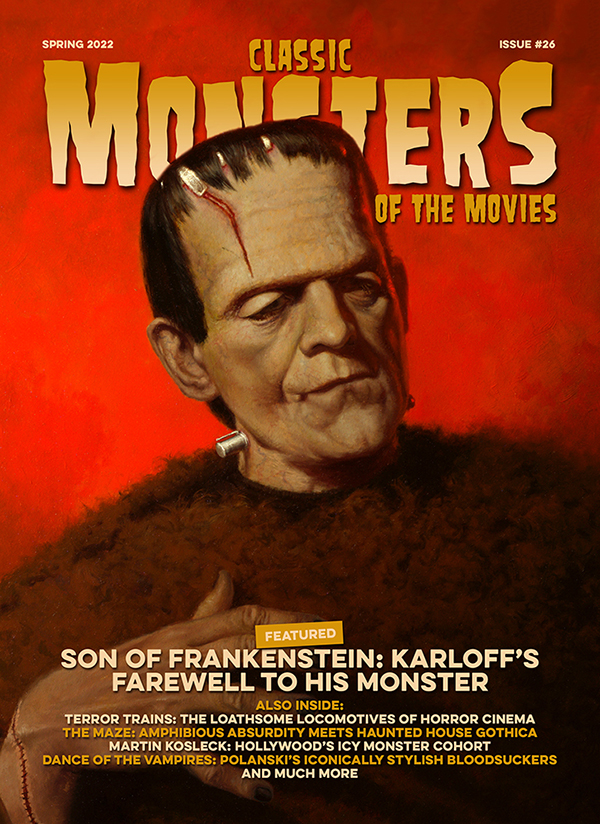 Universal's third Frankenstein entry gets the cover treatment for this edition, with Daniel Horne's stunning oil painting of Boris Karloff leading you into our feature on 1939's Son of Frankenstein. As sinister as it is stylised, this movie marked a turning point in the franchise, with Karloff making his final canonical appearance as a markedly more aggressive Monster. He's in good company, with Bela Lugosi's remarkable portrayal of blacksmith Ygor and Basil Rathbone as titular son Wolf forming a unique and ever-entertaining character dynamic. Our analysis of the movie looks both at its fast-paced storyline and its context within the series, making it a must-read for any Universal Frankenstein fan, and it's accompanied by wonderfully restored stills that capture all those glorious expressionist flourishes. Universal gave Son of Frankenstein the resources to be a success, and it remains a sterling piece of cinema.
But there's more to horror cinema than the eerie villages of mittelEurope, so our Terror Trains feature takes you through the diverse range of locomotive-based thrillers and chillers that have shaped so many nightmares. Whether it's supernatural goings-on, serial killers or wicked conspiracies, there's always a reason to stay on the rails rather than going off them.
Classic Monsters of the Movies issue #26 also takes time to celebrate one of classic horror's lesser-recognised support stars, Martin Kosleck. You'll know him from Universal pictures like The Mummy's Curse (1944), The Frozen Ghost (1945) and House of Horrors (1946), but there's so much more to his intriguing story. Find out more about his life and career here.
It's also time to get your party outfit on as we head to the Dance of the Vampires and an exploration of this richly atmospheric and much-loved horror comedy. There's so much to say about this movie, from its slick direction to its wealth of timeless performances, and our absorbing feature takes you to the ball in style.
If the dancing gets too much, it might be time for some fresh air, so why not get stuck into our Kitsch Corner feature and get lost in The Maze? From its air of sinister mystery to its 3-D presentation and that eyebrow-raising plot twist, this guilty pleasure of a sci-fi mystery has something new around every corner.
Further frights await elsewhere in this issue, with Karloff making a welcome return, as we fall under the brooding spell of The Black Room. This tale of twin brothers haunted by a family curse is a thoroughly eerie experience – the glorious stills and wealth of information make this a must-read feature.
Classic Monsters of the Movies issue #26 is an essential addition to your horror movie magazine collection. From Daniel Horne's extraordinary cover artwork to our compelling articles and fresh perspectives on beloved movies, this is a celebration of the genre you love, all presented with a clean and timeless layout that pays fitting tribute to your favourite motion pictures.
Issue 26 of Classic Monsters of the Movies includes:
Son of Frankenstein – this big-budget powerhouse of a movie saw the Monster evolve, while the Frankenstein family tree extended into new territory.
Terror Trains – whether claustrophobic, creepy or downright comedic, trains and their stations are a perfect setting for all kinds of horror films.
Dance of the Vampires – this lushly shot movie put a glorious spin on established vampire lore and its legacy remains an important one.
Martin Kosleck – though often typecast as wicked Nazis, this German-born star made his mark in a number of altogether more fantastical roles.
The Black Room – it's twice the Karloff terror as we investigate a story of evil, cruelty and the inescapable nature of fate.
The Maze – there's something strange going on at the ancestral MacTeam home – what's the secret at the heart of the labyrinth?
And much more besides!
That's just a taster of what awaits you in Classic Monsters of the Movies issue #26 – there are some surprises in store! Our commitment to the very finest production values makes this the classic horror magazine you've been looking for, with each image meticulously restored and our use of full colour printing giving vibrance and depth to every still.
Remember, you can save money with a discount on the cover price and receive a FREE set of exclusive collector's item postcards with each issue when you purchase an advance subscription to Classic Monsters of the Movies. Click here for details!
Magazine specification:
68 pages
Full colour throughout
Packed with stills, posters, articles and info
Printed and finished to the highest standard